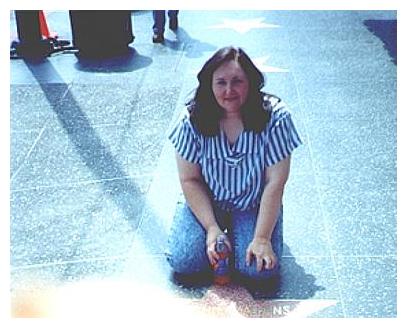 Walk of Fame
Here's me in front of Ritchie's star on the Hollywood Walk of Fame. Friend Lori, Ernie, Richard Murillo and I also visited "City Walk" this same day and had a great time. Even though I don't have a photo taken there, we visited Bob Keane (Ritchie's manager) at Del-Fi Records on another trip to Hollywood. Cool!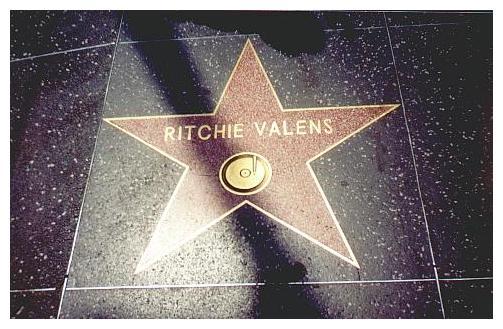 Ritchie's star
Hollywood, CA
It was really neat to find Ritchie's star. From what I've heard from his friends and family, he was a great guy, an enormously talented musician & someone who knew the value of great music. Ritchie definitely deserved this honor and more!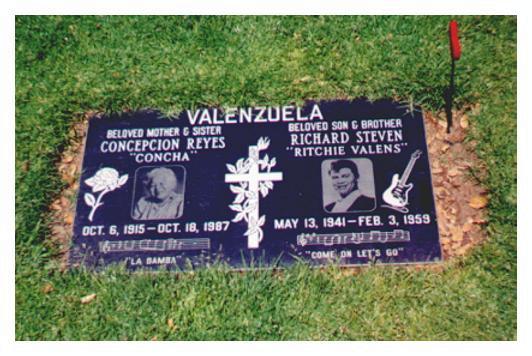 San Fernando Mission Cemetary
Here's a photo taken at Ritchie's grave the day I visited for the first time. It was kind of emotional and sad for me that day as we stood at the gravesite. It's like visiting the crash site in Clear Lake, IA-- it suddenly just hits you what the Feb. 3 plane crash took away.
Ritchie is buried next to his mom who died soon after the movie, LaBamba was made in 1987. You can catch a glimpse of her in "home-movie" scene of the movie LaBamba.