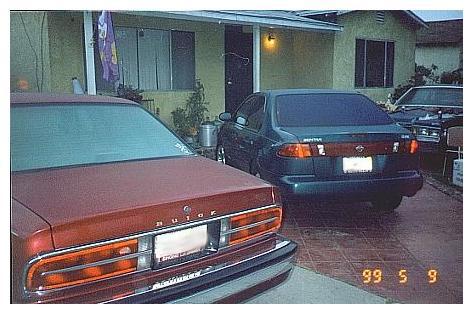 Ritchie's aunt Ernestine and Uncle Lelo's Reyes house in Pacoima
See the room to the right of the front door? That was Ritchie's room and amazingly, you can still go in and sit on his bed! The Reyes have some wonderful memorbilia in their house including a giant sized LaBamba movie poster and one of Ritchie's red shirts. Other items were loaned to the Rock & Roll Hall of Fame in Cleveland, OH including the handwritten lyrics to LaBamba that Ernestine gave Ritchie!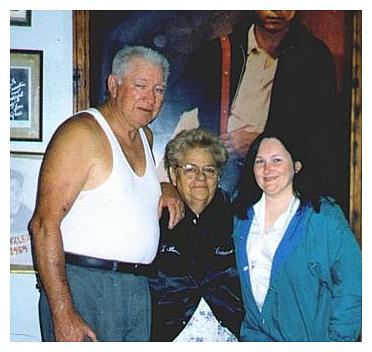 Inside the house
Here's Ritchie's uncle Lelo, his aunt Ernestine and me & I hope Ernestine doesn't kill me for posting this..ha ha. This photo was taken not too long after we woke up one morning and we didn't quite look our best. Note the huge LaBamba poster in the background. I had a great time talking to Lelo and Ernestine and learned a lot about Ritchie Valens in the process. The Reyes are wonderful folks and treated me more like family than a guest. For anyone who doesn't know, Ernestine and Lelo were very instrumental in helping Ritchie as he climbed the ladder of succes. They drove him to many, many live dates back in 1958, and help to keep his memory alive today.
Incidently, Lelo is Ritchie's mother's brother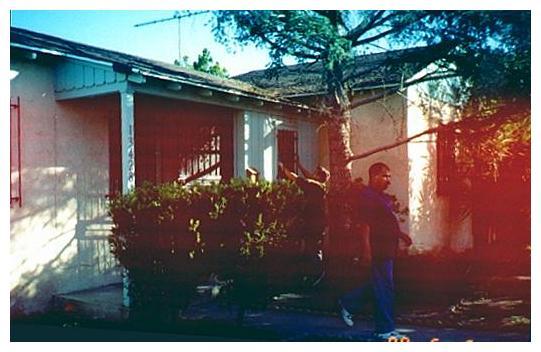 The house Ritchie bought before he left on tour in 1959
This is a close up view of the house you have probably heard a lot about. It is on Remington Street in Pacoima and looks nothing like the house used in the movie LaBamba. We were really lucky that the house was being cleaned up the day we visited (it is usually rented out), so we actually got to go in and see the whole inside and backyard & everything! Even Ritchie's cousin Ernie said he had not been inside for several years. That's Ritchie's cousin Richard Murillo walking in the front yard. There is a garage and guest house in the back and an orange tree in the front. I have some more pictures somewhere of the house. If I can find them and get them scanned, I'll post them.