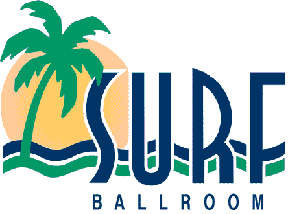 If there was ever a shrine to 1950s rock 'n roll, the Surf Ballroom has to be it. On this page, I've put a few pictures I've taken at the Surf. I've also added a link to the ballroom's own website There you will find everything you will want to know about the Surf. What a wonderful magical place suspended in time..
Another great site to visit is John Linquist's page. John has chronicled all the Surf tributes and can tell you what guests appeared therefrom 1970 onward!
| | | | |
| --- | --- | --- | --- |
| The Surf Ballroom | Memorial maker placed by former Surf manager Darryl Hein. The marker is a tribute to Buddy Holly, Ritchie Valens, J.P. Richardson and pilot Roger Peterson who all died Feb. 3, 1959 | The marquee at the Surf Ballroom in 1999. | |
| The Surf's foyer (and coat check) | Water fountain in the ballroom | Ritchie Valens sisters Irma (left) and Connie dance as Chris Montez rocks the Surf in 1999. Can you guess which song he was singing? (answer: LaBamba!) | |
| Ticket for the 1995 Surf weekend | Ticket 1998 (this was my first time to attend) | Ticket for the big 40th annivesary | |
If you have any pictures that you have taken at the Surf that you would like to appear on this page, let me know and I'll see about getting them on for you.
News|Message Board|Sign Guest Book|View Guest Book|
FAQ|Winter Dance Party 1959|Feb. 3, 1959
WDP revisited|Upcoming events
|Recommended Reading|Links|Letters